Kingfishers

After Easter our topic is 'What a wonderful world!'
Please see above our topic web which shows you the curriculum areas we shall be covering.
This term we have been busy learning about the Tudors and have had a fantastic term with our school production Shakespeare Rocks, swimming lessons, Science day, our KS2 visit to Hampton Court Palace, KS2 Celebration of learning, Easter service and much more!
Have a lovely Easter holiday and I look forward to seeing the children in two weeks.
Woodlands Day 4 - Caving!
Woodlands Day 3 - SNOW! High Ropes, Climbing Wall and Long Walk
Woodlands- Day 2 - Climbing, Canoeing and High Ropes
Woodlands - Day 1 - We made it!
Welcome to Kingfishers class with Mrs Pollard. Here you will find out what your children have been learning about in class.
This term our topic is 'The Romans'.
Our class topic books are 'Queen of Darkness, Boudiccas Army will rise' and 'Roman Diary, The Journal of Iliona, young slave'.
The children thoroughly enjoyed our Roman workshop this morning. We learned about How the Romans socialised, what they wore, how they fought and even watched a slow motion gladiator battle between two of the Kingfishers! I was particularly impressed with how much the children have learned over the term- great work all.
We thoroughly enjoyed our trip to the Roman Villa, in particular the Roman teeth artefacts!
Welcome to Kingfishers 2021-22 with Miss Fletcher
The children in Kingfishers and Red Kites are currently working really hard rehearsing for our school play at the end of this term. We cannot wait to show you all soon...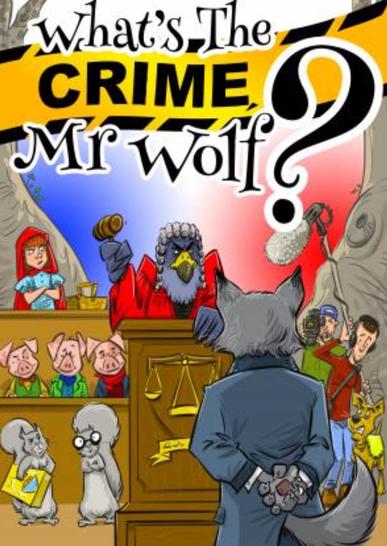 DT: Making a Healthy Bolognese
The Kingfishers had a wonderful time planning how to adapt a recipe to make it healthier. They decided to use lentils and packed their bolognese full of tasty vegetables. Some children were in charge of grating carrots, some chopped the onions, others prepared the peppers or tomatoes! The dish looked so colourful and almost all of the children had a taste; many even wanted seconds!
DT: Making a Healthy Bolognese
Science: The children have been learning all about light and how shadows are formed. They got to have a go at making their own shadow puppet plays!
Welcome to Kingfishers 2020-21 with Miss Hustler!
Today we were lucky enough to have 'West End in Schools' come and do a Japan 2020 olympics dance workshop with us.
We've had an amazing afternoon making sushi as an end to our Japan topic. They put the rice onto the nori, chopped cucumber and roll it up using a sushi mat. The children all showed brilliant teamwork, communication and were very sensible!
This half term we have been looking at pop ups and levers in DT. Today, the class finished their pop up books that they've been designing and working on for a few weeks. They shared them with the year 3 and 4s in Red Kites this afternoon and they really enjoyed looking at each others' hard work and brilliant stories!
Topic Web Autumn 2021
We've made Stone Age jewellery from clay!
We've had a brilliant science day focusing on innovation and inventing today. Our brief was to create headwear for arctic climates, so we have discussed insulation and the benefit of using layers. We used recycled plastic to ensure they would be environmentally friendly and make it even more of a challenge. The children designed their ideas, worked in partners to create them, before evaluating their final products. We have some amazing scientific pieces of writing and some brilliant inventors among us!
Kingfishers finished their DT board game project this week and spent the last morning of term teaching each other and playing their creations! Some very talented game designers in the making!
Making christingles ready for our Zoom Christmas carol service!
CHRISTMAS DAY! Crown making, a school zoom quiz, Christmas lunch and an irock concert! Very happy and excited Kingfishers today!
Pyjama day and finishing our DT project - space themed board games!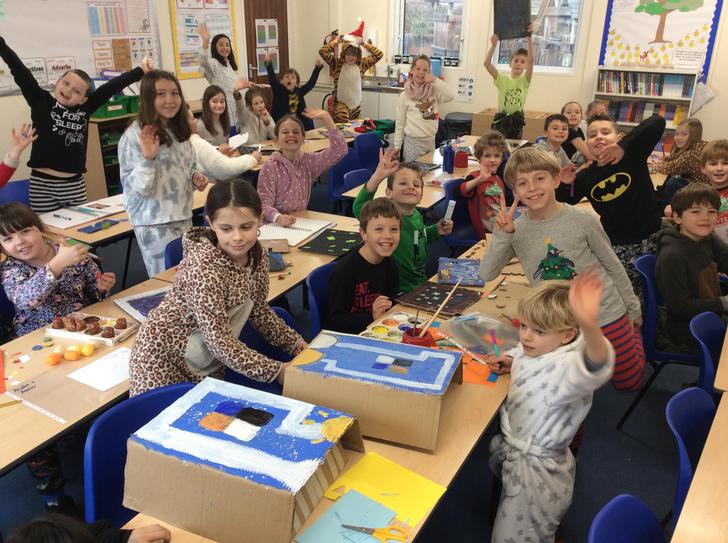 Today, we finished our textiles topic in art. The children printed their final designs onto fabric that they tie dyed a few weeks ago. The final products turned out brilliantly. Thank
A lovely harvest walk to the church to deliver all the wonderful donations for The Besom!
Today in Science we looked at air resistance and tested to see which material would make the best parachute! The lovely weather meant that we could do our experiment outside!
Lots of fun in our first art lesson of the year exploring linear patterns and printing techniques on to fabric!
Welcome to Kingfisher Class 2019-20 with Miss Hustler!
We've been really enjoying our Science topic of Light this term. It has given us lots of opportunities for experimenting, making predictions and creating graphs. Today we looked at how the angle of light affects the length of a shadow. Working in the dark is quite exciting!!
In today's art lesson we created drawings inspired by Kandinsky's 'Circles' using natural forms to create a variety of shapes.
Today we had our first lesson of our new art scheme. The children used their creativity to draw Jeffry the Maggot's journey through treacherous thorns, the land of ice cubes and the electrician's wires. We experimented with different pencils and pastels as well as a variety of ways to use and hold them. The children produced some amazing drawings in lots of different styles.
Merry Christmas from the Kingfishers!!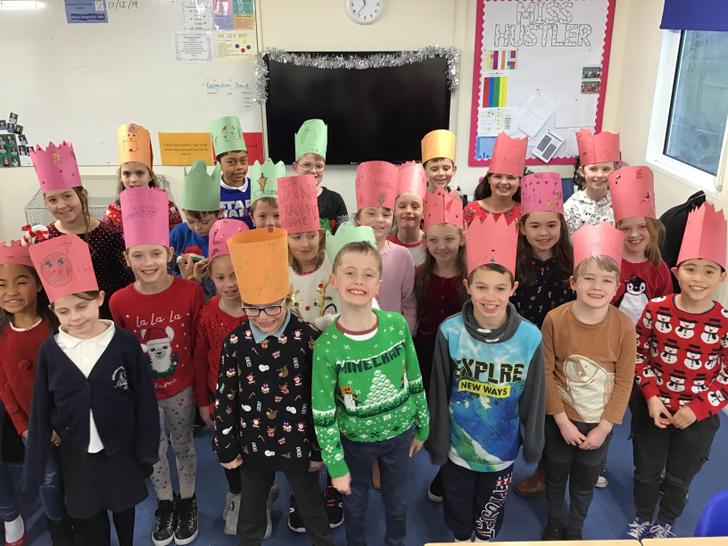 We made these snow globe Christmas decorations for you to buy at the school Christmas Fayre on Friday 13th December. They will cost £1 (all money comes back to the school), and not only is there one with your child inside, but also with a variety of Christmas scenes! We are looking forward to seeing you there, Daniel and Naomi.
We have had a fantastic morning preparing for our KS2 Celebration of Learning event! Each class have done some fantastic baking for the WW2 tearoom and we made war time orange drop biscuits! All the children got involved and had a brilliant time creating the biscuits which have turned out brilliantly! We hope lots of parents will be joining us to try them this evening (21/11/19)
This afternoon, we have had a very exciting visit from Geoffrey Daisy's tortoise! We learnt lots of interesting facts about tortoises and were all excited to meet him at the end of the day!
In art, we have been doing an artist study on John Piper who was a wartime artist during and after WW2. He painted pictures of buildings like cathedrals and churches when they were left derelict after being bombed during the war. He captured the devastation created in the large cities and we tried to recreate this in our own paintings. We began by sketching the picture of Coventry Cathedral painted by Piper, and then painted them in his style.
Restart a Heart Day
Kingfishers and the rest of Key Stage 2 have had a great afternoon learning vital CPR and how to use a defibrillator with Pint of Life. We were lucky enough to have persephone's dad spend all afternoon with us for 'Restart a Heart Day'. We were even on BBC South News this evening spreading the word!
We have been learning about the significant battles of WWII. In art, the pupils have been creating beautiful pictures based on The Blitz. They all designed their own take on the sunset behind the silhouette of London's skyline and they've come out amazingly!
We have had an exciting afternoon looking at electrical circuits, seeing what we need to make a complete circuit and how a switch works! The pupils asked lots of amazing, scientific questions which really got everyone's brains working!! I particularly liked seeing how much they enjoyed investigating and working in a group.
We have had a brilliant session with 'footy kids' this afternoon. The children played some brilliant football based games and played some matches against each other. They had a great time and lots of them are looking forward to joining the club after school on Fridays!
Science - Renewable and non renewable energy
Kingfishers have started learning about electricity in Science. Today they did lots of research on renewable and non renewable energy and created presentations in groups.
What a fantastic first week back! On Wednesday, all of KS2 took part in our WW2 day. We tried to understand what it was like to be evacuated in the war. We heard an air raid siren, made gas mask boxes and identity tags and even made and tasted 'egg in a nest' - a dish that would have been eaten during the time of the war. We then came together at the end of the day to sing war time songs. Everyone is looking forward to delving deeper into our topic!
Sikh Gurdwara