Kilvrough 2019
Year 5 and 6 have had a fantastic last morning at Kilvrough. We were dropped at Caswell Bay and walked the coastal path round to Langland Bay. We then created inventive beach art in the sand and ate our lunch on the rocks. Everyone has had a brilliant week, learnt lots and built on their teamwork and resilience. We are all looking forward to getting back to our families and own beds now though!!
Group C have had a brilliant day rock climbing and abseiling. We started the day crawling through the 'foxhole', then abseiled down a steep cliff and climbed back up. It was a bit challenging but everyone tried really hard and gave it a go. We even saw a seal!!
Wonderful waterfall walking!! Groups A and B had an amazing time on their waterfalls walks. We picked blackberries, saw amazing views, worked on our map skills and walked underneath waterfalls! Miss Hustler even got told by a lady walking past that they were the most polite group of children she'd even come across with every one of them saying thank you as she let them past. A proud moment!
We have all enjoyed a magical night time walk to Pennard Castle this evening. We caught the beautiful sunset and took a moment to sit and appreciate the view. We then walked back through the woods with torches - what a fantastic way to end a brilliant day!
Group C loved their waterfall walk in the Brecon Beacons! It was a long walk and they showed resilience, cooperation and were able to share their responsibilities.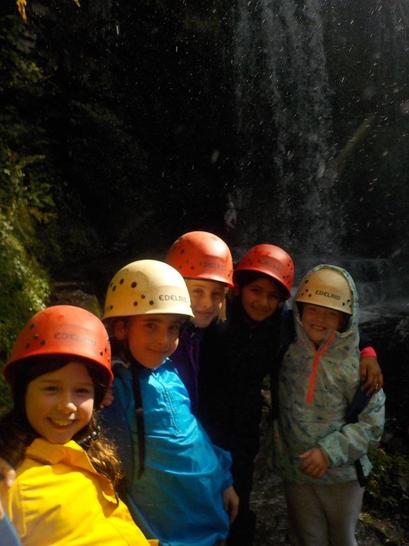 What a fantastic second day!! Group B have had an amazing day on Pobbles Beach in the sunshine. They abseiled down a cliff and then spent the afternoon rock climbing. They have been working on encouraging and helping others and definitely showed great teamwork skills today!
We have arrived at Kilvrough Manor! We were shown to our rooms, followed by eating delicious homemade soup and bread for lunch. We have spent the afternoon getting our equipment sorted ready for tomorrow and enjoying team building activities with our group for the week. Everyone is very happy and excited to be here!